Far Valley Dohne
I built my first web page some 15 years ago. A web page is meant to advertise, enhance, expand the profile of our business. Many web designers do not achieve this. I used many different web designers to help build my web page to a professional level. However nothing seemed to happen or change, so I would go back and rebuild my own website once again. As my business started to move overseas and attract outside interest, I thought that I should try once again to put a more professional face to my business. It was by chance that I met Nick Jerrat, my lucky day, because he transformed my web presence to a level that I thought was not possible. Nick and his team are very progressive, thorough, professional and fun in their approach and I feel need to be highly recommended. I am now getting more hits on a regular basis than I thought possible. Not just from Australia, but now all over the world."


David Kain
Manager
Far Valley Dohne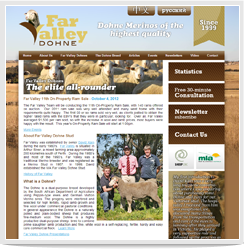 ---
AuQuest, Perth
Publish My Web was instrumental in designing and implementing our website. All of the programming, design and implementation including graphics was done within a short time and to a very high level. We wish to thank him for the excellent job and have no hesitation in recommending Publish My Web for any computer programming work or website design."
Gerald Wright
Chief Engineer
Auquest Pty Ltd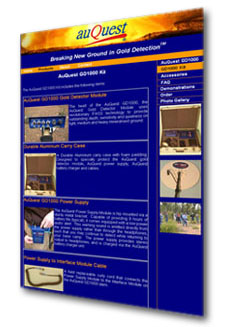 ---
Thesis Edit
Thesis Edit is a small business operated as part of Publish My Web, originally developed to show-case the development of a successful online business and additional cashflow stream. Thesis Edit is a basic site developed with limited resources and time, but with some online marketing and with all interactions with customers conducted via email. ThesisEdit.com ranks second for the keywords "thesis editing" in Google Australia. It is also ranked highly in yahoo.com.

Students submit their thesis for editing and pay 50% upfront. On completion of editing, the thesis is emailed back to the student with corrections and comments. The student is then required to pay the remaining 50%. All transactions are achieved through paypal or online banking.

After operating since 2006 as part of Publish My Web, the business of ThesisEdit was sold in May 2011 to a US based document editing company."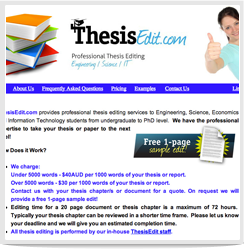 ---
Wagga Vegetable Processing, Wagga Wagga
Publish My Web assisted us to build our online website presence in a very short time. Since that time we have received several new enquiries to our website from the search engines."
Wayne Poulos
Wagga Vegetable Processing
Publish My Web developed a cost-effective website for Wagga Vegetable Processing based in Wagga Wagga, NSW.

Wagga Vegetable Processing is currently listed 5th in the world in Google for the keywords "vegetable processing".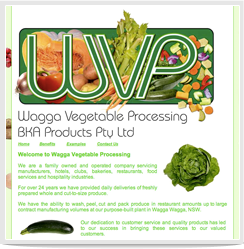 ---
Owl Greeting Cards, Wagga Wagga
Fantastic service!! Publish My Web have an excellent understanding of business requirements. They are efficient and well versed in all areas of business. Highly recommended & Thank-You."
Rhonda Dale
Director
Owl Greeting Cards Pty Ltd
Publish My Web developed a cost-effective online store for Owl Cards to distribute its large print greeting card range across Australia and globally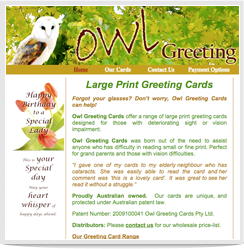 ---
Select Minerals, Perth
Publish My Web developed our first website for the business. I can highly recommend Publish My Web to any business that requires website development. Their work was professional, timely and delivered quality products that stood us in good stead with our clients."
Jack Andreazza
Managing Director
Meteore Metals Limited
Select Minerals was an Western Australian exploration company. Publish My Web also developed the Select Minerals logo, illustrating the Company's focus on Nickel and Cobalt exploration. Select Minerals has subsequently merged with another company.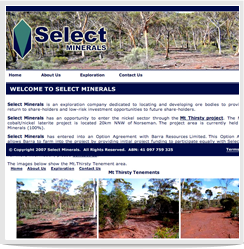 ---
Optimised Investments, Perth
Publish My Web developed an excellent website for our business. They are to be commended for their attention to the brief, their adherence to the budget and their commitment and completion of the work on time!

We strongly recommend Publish My Web to any business wanting to work with professionals who can develop a website on time and on budget!

We look forward to working with Publish My Web again, soon."
Peter Pynes
Managing Director
Optimised Investments Limited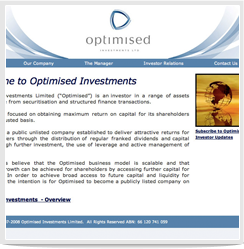 ---
Wagga Family Support, Wagga Wagga
I would like to thank Publish My Web for making the daunting task of setting up our first website so easy. The site included a cleverly constructed self assessment survey to assist potential clients along with graphics and design to compliment our service. Publish My Web provided a turnkey service from conception to going 'live', all within budget. Publish My Web provided personal, friendly assistance and I would highly recommend anyone to utilise their services for website construction, design and implementation."

Chris Selvey
B Soc Sc (Rehabilitation Counselling)
Problem Gambling Counsellor
Former Employee of Wagga Family Support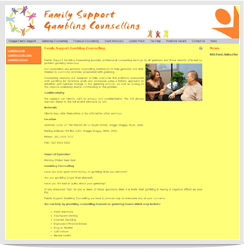 ---
D&M Electrical | Wagga Wagga
We were very pleased with our website. Publish My Web created a bright eye-catching site and listened to what we wanted included. Nick has been very helpful and quick to respond to any further requests for alterations."

Judy Thompson
Office Manager
D&M Electrical, Wagga Wagga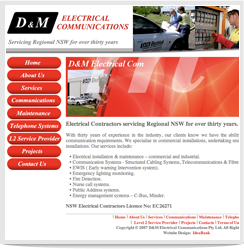 ---
Nursery Fairy, Wagga Wagga
Publish My Web have been wonderful to deal with. This was our first website experience and it has been so easy. Our site is user-friendly, creative and innovative. Publish My Web has provided us a supportive and personal service. We do not have any hesitations in recommending their services and certainly will be doing so - Thank-You."
Jennifer Lawrence
Nursery Fairy
The Nursery Fairy website is an extensive online store for nursery gifts and products. The store uses a back-end administration system that handles customer details, online payments, invoices and delivery information.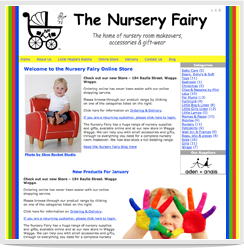 ---
DTE Group
Publish My Web is a great firm to work with - their intuitiveness and creativity have been spot on from day one. Attention to our specific business needs was made a priority further adding value to our brand equity. Our corporate identity is conveyed to our clients and peers in the high quality professional manner we expect. Highly recommended."


Leah Capuno
Sales and Marketing
DTE Group
DTE Group provide industry leading, turn-key solutions for storage tanks and fluid systems Australia wide, with offices in Western Australia, New South Wales and Queensland.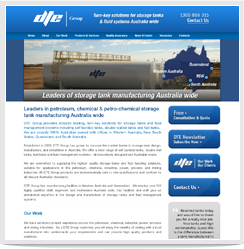 ---
Sureway Employment & Training, Head Office, Wagga Wagga
Nick from Publish My Web worked with us to evaluate proposals and presentations by several IT integrators. His insights were most helpful and his documentation clear and thorough. Publish My Web took a real interest in our business and was a great resource in the decision process."
David Ellis
IT Specialist
Sureway Employment and Training, Head-office
Publish My Web assisted Sureway to assess IT integrators bidding for a 2 million dollar contract to upgrade Sureway's IT infrastructure.
Sureway is one of the highest rating providers of Job Network Services for Centrelink, with over 400 employees and 30 offices in regional NSW.